WELCOME TO GREEN ROOFS
NYC!
Green roof updates
October 2021
Green Roof Common Questions
What is a green roof?
---
Green roofs provide numerous social, economic, and environmental benefits for individuals, communities, and cities. A green roof is a layer of vegetation installed above a system of barriers and membranes that protect and insulate the structure. There are two types of green roofs. Extensive Roof
Shallow growing medium (soil) between 2 and 6 inches
Less structural support
Limited diversity of plants with less intricate root systems
Less investment and little maintenance once established
Requires minimal maintenance after the first year of establishment
For roofs without occupancy or capacity for gathering
Intensive Roof
6+ inches of growing medium (soil)
Greater weight-bearing capacity to support a deeper growing medium and heavier plants
It can support a wider variety of plants and trees
Can support raised beds
Higher initial investment and more intensive maintenance
May require an irrigation system
It may be accessible for residents to socialize, with appropriate access and a Certificate of Occupancy.
---
Where are green roofs located in NYC?
---
As of 2016, there were 60 acres of green roofs in all five boroughs of NYC. Green roofs are found on residential, commercial, city, state, and institutional buildings, including universities and major facilities like the Jacob K. Javits Convention Center. While this may sound like a lot, green roofs account for less than a tenth of a percent of the city's roughly one million rooftops, which add up to about 40,000 acres of underutilized space.
---
Are green roofs important to urban environments?
---
Green roofs can provide many benefits for the inhabitants of NYC, including stormwater management, heat island mitigation, thermal regulation habitat enhancement, and recreational opportunities. Learn more about environmental benefits.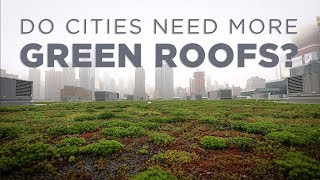 ---
How much does a green roof cost and are there financing options?
---
Before installing a green roof, consider the initial construction investment, maintenance cost, return on investment, and financing options, including grants and tax incentives provided by NYC and other entities.
Learn more about financing green roofs
---
Can I design and install a green roof myself?
---
When designing a green roof, it is crucial to consider the environment, intent, and building requirements. The information on this website can help you get started, but it is not intended to be a comprehensive design guide. It is strongly advised to hire a professional design-build consultant to guide you through the design process, assist with procuring funding and permits, and safely install and maintain your green roof!
Learn more about designing green roofs.
---
---
Green roof technology can

cut carbon and reduce air pollutants

such as nitrous oxide, sulfur dioxide, and ozone. In addition, green roofs remove harmful fine particulate matter in the surrounding air.
By protecting roof structures from weathering and degradation, green roofs decrease the cost of repairs and maintenance. Green roofs last up to

twice as long

as conventional roofs.
Increases Property Value & Decreases Tennant Turnover
Residential and commercial properties with green roofs have

higher property values

, lower tenant turnover, and lower energy costs. These advantages mitigate the initial high cost of green roof installation.
Increases Energy Efficienciency
Because of their insulating effect, green roofs can

increase energy efficiency

by

reducing

energy costs year-round and prolong the life of heating, ventilation, and HVAC systems.

Calculate

green roof energy savings here and learn how to make your building more energy-efficient.
By providing outdoor space where people can socialize, garden, play, and relax, green roofs, like parks, may

improve overall health and well-being

. Green roofs are an important source of green space in dense cities. In addition,

research

has found that office workers are 2.9% more productive when the view out of their office windows includes vegetation.
Lowers Urban Temperatures
Green roofs

can insulate buildings

, making them cooler in summer and warmer in winter. An increase of green area decreases ambient air temperature and helps

mitigate the urban heat island effect

.
Green roofs can retain more than half of annual precipitation, with performance dependent on the local microclimate, precipitation characteristics, growing media depth, and vegetation type.

Stormwater retained

by green roofs reduces the volume of runoff discharged to separate or combined sewer systems, helping to keep our waterways clean.
Provides Needed Habitat and Increases Urban Biodiversity
Amid urban infrastructure, green roofs provide much-needed habitats on otherwise unutilized space. They act as connectors for many species, including

birds, bees, bats, and insects, to move from one urban green space to another.
Reduces Noise &
Increases Insulation
Green roofs can reduce internal and external sounds by nearly

40 decibels

. The soil substrate and plants absorb sound, unlike a conventional roof that simply reflects it.
CLIMATE MOBILIZATION ACT SERIES
With support from the Natural Resources Defense Council, and in partnership with the Mayor's Office of Sustainability and the NYC Retrofit Accelerator, the Building Energy Exchange is holding a series of programs designed to demystify the components of the Climate Mobilization Act and connect our community with relevant solutions. Hear from experts directly involved in the development of the legislation and those charged with its implementation to understand how NYC's Climate Mobilization Act will impact your real estate portfolio. Most importantly, learn about resources available through NYC Retrofit Accelerator and Building Energy Exchange to help your building comply with these new requirements.

Green roof benefits resources