WELCOME TO GREEN ROOFS
NYC
Green roofs provide many social, economic, and environmental benefits for individuals, communities, and cities. However, green roofs cover only one in a thousand buildings across New York City's five boroughs.
Green Roofs NYC is a resource to inform residents, developers, business owners, and occupants about the benefits of green roofs and connect them with green roof resources, including policy, finance options, and educational curriculum.
Green Roof FAQ
What is a green roof?
---
Green roofs provide many social, economic, and environmental benefits for individuals, communities, and cities. A green roof is a layer of vegetation installed above a system of barriers and membranes that protect and insulate the building. There are two types of green roofs. Extensive Roof Shallow growing medium (soil) between 2 and 6 inches Less structural support Limited diversity of plants with less intricate root systems Less investment and little maintenance once established Requires minimal maintenance after the first year of establishment For roofs without occupancy or capacity for gathering Intensive Roof 6+ inches or deeper growing medium (soil) Greater weight-bearing capacity to support a deeper growing medium and heavier plants Can support a larger variety of plants and trees Can support raised beds Higher initial investment and more intensive maintenance May require an irrigation system May be accessible for residents to socialize, with appropriate access and Certificate of Occupancy
---
Where are green roofs located in NYC?
---
As of 2016, there were 60 acres of green roofs in all five boroughs of NYC. Green roofs are found on residential, commercial, city, state, and institutional buildings, including universities and major facilities like the Jacob K. Javits Convention Center. While this may sound like a lot, green roofs account for less than a tenth of a percent of the city's roughly one million rooftops, which add up to about 40,000 acres of underutilized space.
---
Are green roofs important to urban environments?
---
Green roofs can provide many benefits for the inhabitants of NYC, including stormwater management, heat island mitigation, thermal regulation habitat enhancement, and recreational opportunities. Learn more about environmental benefits.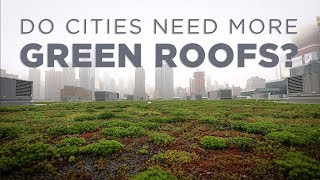 ---
How much does a green roof cost and are there financing options?
---
Before installing a green roof, consider the initial construction investment, maintenance cost, return on investment, and financing options including grants and tax incentives provided by NYC and other entities.
Learn more about costs & savings of green roofs.
---
Can I design and install a green roof myself?
---
When designing a green roof, it is important to consider the environment, intent, and building requirements. The information below can help you get started, but it is not intended to be a comprehensive design guide. It is strongly advised to hire a professional design-build consultant to guide you through the design process, assist with procuring funding and permits, and safely install and maintain your green roof. Learn more about designing green roofs.
---
---